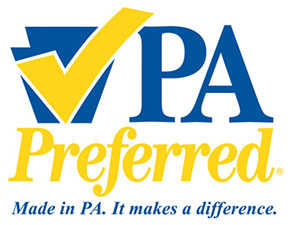 This list is provided by Company/Brand names. Products may be found at multiple locations.
If you would like to use a Pennsylvania company that is not found on this list, visit www.papreferred.com and utilize the search function where you can search by company and product. If you type the first three letters of the company and a dropdown list does NOT appear, the company is not a member of PA Preferred.
Milk Producers
Phil‐Jon Farms
Vale Wood Farms
Turner Dairy Farms
Perrydell Dairy
Hilltop Country Barn
Way‐Har Farms
Crystal Spring Farm
Maplehofe Dairy
Calkins Creamery
Marburger Dairy
Pure Country Dairy
Harrisburg Dairies
Lapp Valley Farm
Fulton's Dairy
Bookamer Family Farm
Le‐Ara Farms
Wentworth Dairy
Wholesome Dairy Farms
Creamworks
Schneider's Dairy
Schneider's Valley Farms
Guer's Dairy
Ritchey's Dairy
Galliker's Dairy
Giant Food Stores, store brand milk
Weis Markets, store brand milk
Egg Producers
R. W. Sauder, Inc.
Lehman's Egg Service, Inc.
Kreider Farms
Hillside Poultry Farms, Inc.
Hillandale
Giant Food Stores, store brand eggs
Weis Markets, store brand eggs
Notes from PA State Association of County Fairs
This list is provided for reference only.
Contestants are encouraged to use other PA Preferred ingredients, as well.
Herhey Foods is NOT a PA Preferred Program member because not all products are produced in Pennsylvania.
Contestants may use Hershey's chocolate in their recipes, but Hershey ingredients do NOT count towards the "minimum of two (2) PA Preferred ingredients" requirement in the PA Preferred Rules.
UPDATED: Jul 12, 2021 @ 3:44 pm