Daily Entertainment is FREE with the Cost of Admission.
Sound System by Lightning Audio Products, sponsored by Blaise Alexander Ford and Garbrick Amusements; Hotel Accomodations: The Mifflinburg Hotel and Scarlett D Tavern; Catering by Ard's Farm.
Email: entertainment@unioncountywestendfair.com.
Sun
Sunday, August 5, 2018
3:00 PM – Union County West End Fair Pageants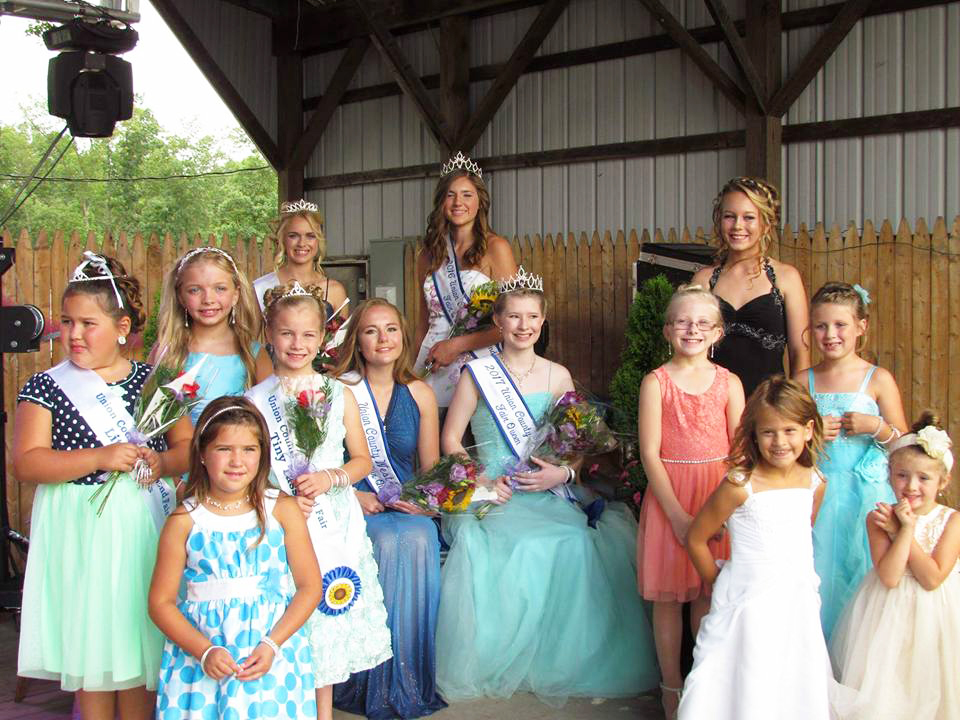 The pageant order will be:
Sunday, August 5, 2018
6:00 PM – Vesper Service with Nancy Joyner & Early Station. Speaker: Pastor Dick DeVett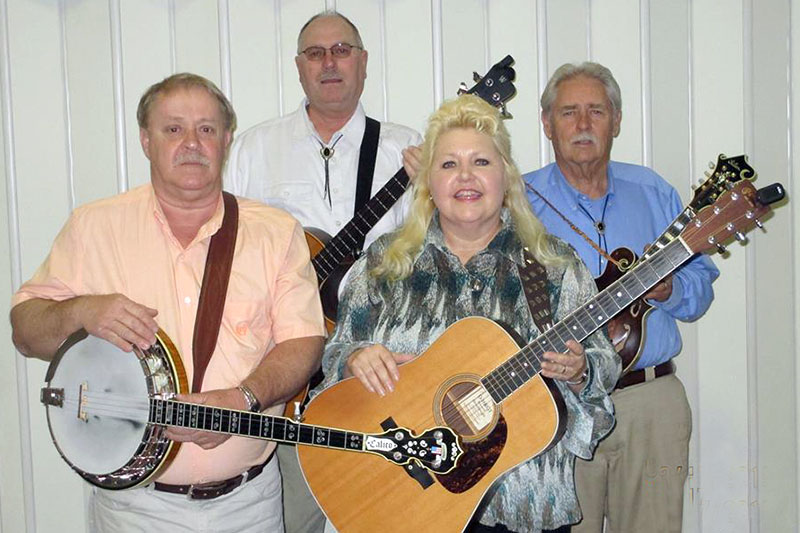 Sponsor: Runkle Agency LLC
GOSPEL — Nancy Joyner and the band Early Station hail from Aulander, North Carolina. Established in 2001, band members include Nancy Joyner (guitar and lead vocalist), Bob Joyner (banjo), Mitch Knox (mandolin and harmony) and Jack Willis (bass). The band tours throughout eastern North Carolina and southeast Virginia, performing for festivals, fairs, nonprofits, family reunions and churches.
In addition to touring, the Joyners host the Red Barn Bluegrass Festival twice a year at the family farm. Family and volunteers work together to provide a family centered day with home cooked foods and bluegrass entertainment. This year's festivals are scheduled for May 7 and October 1. The Red Barn Bluegrass Festival is a nonprofit organization. Admission is $10.00, which is used to pay the bands.
More Info: www.facebook.com/Nancy-Joyner-Early-Station-156158951074559  
Mon
Monday, August 6, 2018
FREE ADMISSION for active & retired military with ID.
6:45 PM – Special Guest Jon Langston
8:00 PM – Confederate Railroad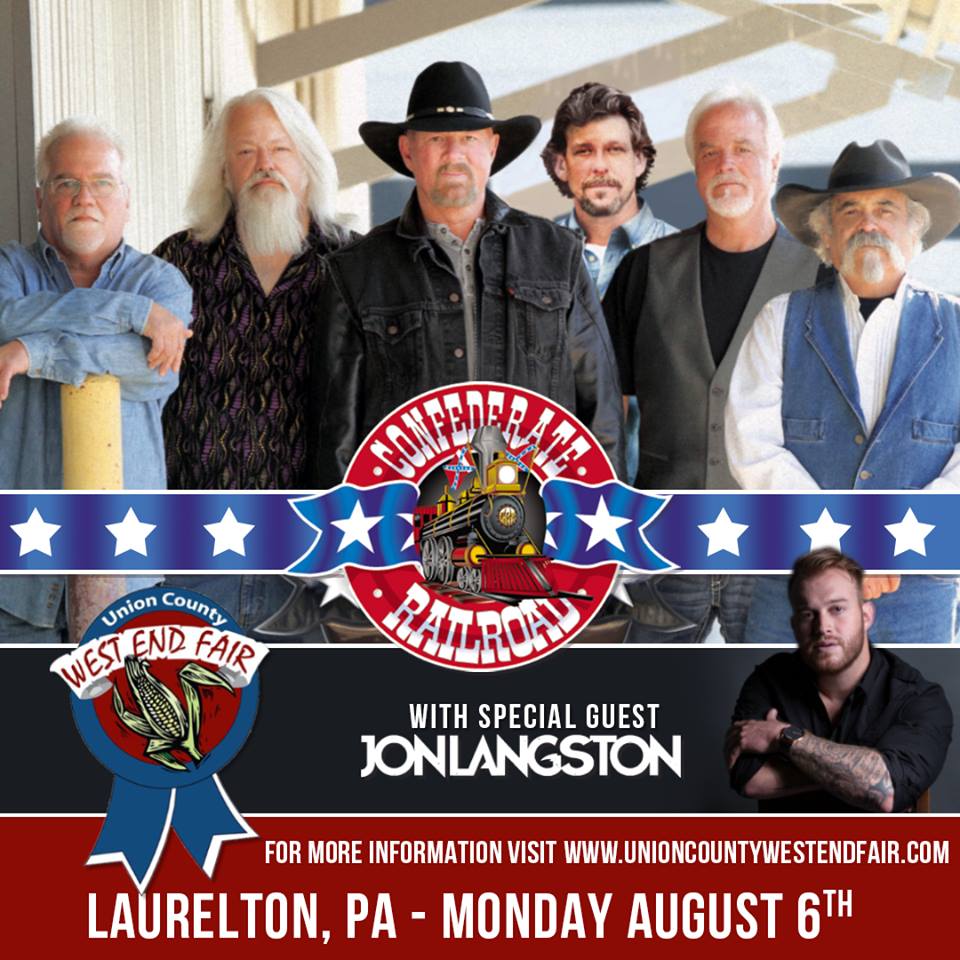 Sponsors: Packer's Concessions, Gross' French Fries, Garbrick Amusements, Shaffer's Insurance Agency and Aubrey Alexander Toyota
COUNTRY — Confederate Railroad first rolled onto the national country music scene in the early 90s. Headed by founder and frontman Danny Shirley, the former backup band for both David Allan Coe and Johnny Paycheck got their big break by signing with Atlantic Records. From rowdy country to raw emotion, a Confederate Railroad concert covers a wide range of feelings. Young people will be there rocking to "Trashy Women", while their parents and even grandparents will likely be singing along to "Jesus and Mama".
On stage, Shirley, the lead singer and vocalist, and his mates, Mark Dufresne (drums), Wayne Secrest (bass), Rusty Hendrix (lead guitar) and Bobby Randall (steel guitar, fiddle and vocals), are right at home and obviously having fun right along with their appreciative audience.
More Info: www.confederaterailroad.com
COUNTRY— Georgia native Jon Langston set his sights on playing football in high school and earned a Division I scholarship to play at Gardner-Webb University in North Carolina. It was his junior year of college when he picked the guitar up again after suffering multiple concussions. The coaches, doctors and Jon decided it was best for his health to hang up the pads. Langston says. "It was hard but I knew it was the right thing to do. I didn't know what God had planned for my life at the time." Langston picked up the guitar again and began to write his own songs, posting them on YouTube.
Langston has a passion and love for country music, and his unique voice and songwriting style have sparked a wildfire fan base across the nation. Now a Music City resident in Nashville, TN, Langston has created his own style and sound from a variety of influences.
More Info: jonlangston.bombplates.com
Tue
Tuesday, August 7, 2018
7:00 PM – Redhead Express

Sponsor: BZ Motors and The Whole Enchilada
VARIETY* — Music had always been part of their lives, but Christmas of 2006 changed everything when Redhead Express band members got their instruments – Kendra (singer, songwriter and band leader), a guitar,  LaRae, a banjo, Alisa, the family's violin, and Meghan, an upright bass.
In 2007, they practiced with a local jam group, performed for tips at coffee shops and festivals, and traded performances for food tickets at the Alaska State Fair. Everyone was hooked, but they wanted more. The family literally sold everything they owned down to whatever they could each fit into their own plastic Rubbermaid bin and headed for the Appalachian Mountains to study the roots music of America. While many believe it is their near perfect three and four part sibling harmonies that truly makes them unique, their sound and stage presence is undeniable.
*Redhead Express performs American Folk, Jazz, Blues, Rock, Pop and Country Music.
More info: www.redheadexpress.com  
Wed
Wednesday, August 8, 2018
FREE ADMISSION for Seniors 62+ (Does NOT include handicapped individuals under age 62).
6:00 and 8:00 PM – Heather Olson with Silver Eagle Band

Sponsor: The Pennsylvania Lottery
COUNTRY/POP: Patsy Cline Tribute Artist and member of the country band Spruce Creek.
More Info: www.facebook.com/HeatherOlsonMusic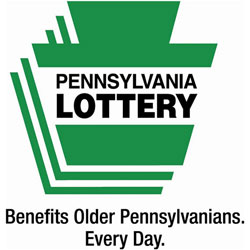 Thu
Thursday, August 9, 2018
7:30 PM – Zach Williams

Sponsors: Allstate: Jeff Conner, Agues Shakes, Hartley Township Community Center, Koss Financial Group, Lewisburg Builders, Mifflinburg Lumber, Miller Travel Agency, Mr. Scoops, Mr. Sticky's, Nationwide: Jeffrey J Smith, Pik-Rite, Sholley Agency, Smeltz Automotive, Star Seal of PA, State Farm: Keith Dunlap, T-Square Drafting, West End Bible Fellowship, and WGRC Radio
CONTEMPORARY CHRISTIAN — After many years of drug and alcohol addiction, Zach William eventually became the campus director and worship leader of Central Baptist's campus in Jonesboro. Over time, doors opened for him to write songs with Jonathan Smith and Mia Fieldes, including "Chain Breaker," a tribute to the goodness of God in our lives.
"Even though I grew up going to church every Sunday as a kid, even though I knew right from wrong and said I was a Christian, there was absolutely nothing about the way I was living that reflected these things," Zach shares. "It took a trip to Europe in 2012 to stop me dead in my tracks and show me just how lost I really was."
That year, with his wife by his side, his faith became real to him and he found renewal by dedicating his life to Christ. He hasn't looked back since.
More Info: zachwilliamsmusic.com   
Fri
Friday, August 10, 2018
7:00 and 8:30 PM – The Lucky Afternoon Band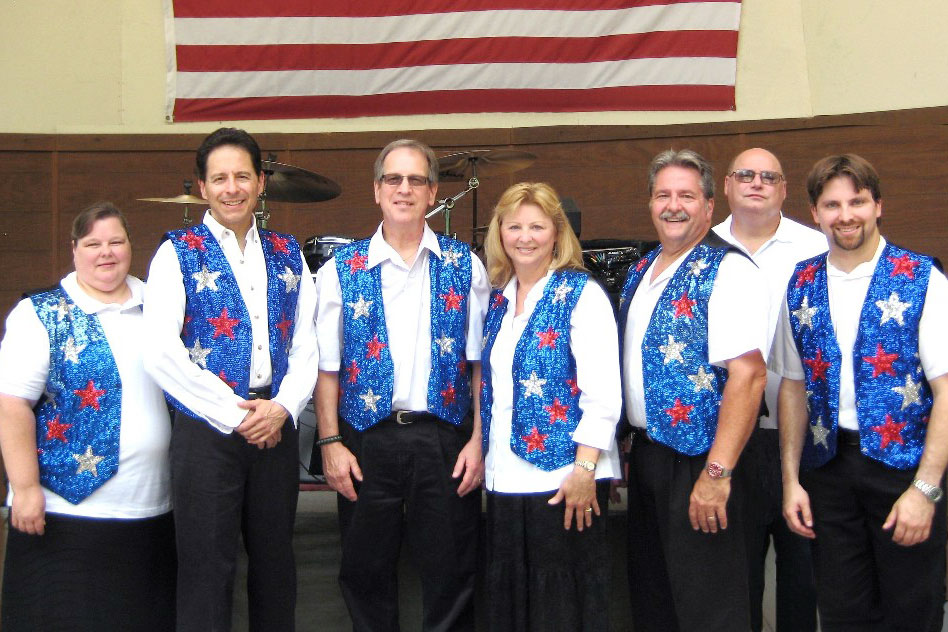 Sponsor: HL Klose & Sons
OLDIES ROCK — For over twenty-two years, the Lucky Afternoon Band has been providing high quality, professional variety dance and music entertainment throughout Central Pennsylvania. The band's high-energy and crowd interactive shows of rock, oldies, and country have been enjoyed by generations at carnivals, clubs, fairs, parks, festivals, reunions, private and corporate events. The band features a variety of musical styles including fiddle, banjo, trumpet, flute, and accordion selections.
More Info: www.luckyafternoon.com    
Sat
Saturday, August 11, 2018
7:00 and 8:30 PM – Bob Randall with The Randall Ginley Band

Sponsor: Ritz-Craft Custom Homes
VARIETY — The Randall Ginley Band formed in 2014, doing traditional county music, southern rock, blues and original songs. Its members include Bob Randall, Dave Ginley, Todd Fogle and Jr Keister. They are a high energy band, consisting of two guitars, bass, drums and Dave doubles on harmonic. Bob, Dave and Jr all sing lead and harmony.
Bob Randall is a singer-songwriter recording artist and performer signed with Doc Holiday on Mega International label in Nashville Tennessee. Bob has five CDs of original songs and moved to Nashville in December of 2017. He is currently touring the US and working on a tour of Australia in 2019.  Bob plays acoustic and lead guitar.
Dave Ginley had been playing guitar over 30 years across the US. From Wilkes-Barre, PA, he has strong lead vocals and harmony.
Todd Fogle is a musical veteran of 25 years. He has played drums on a number of nationally released albums and toured the US extensively.
JR Keister is a pure blood Westend boy who loves working here and getting to pick with all his musical buddies. He is part of the Mennonite community musicians and plays Bass in the band.