CONTACT: Mike Sanders | Phone: 570-966-8664
SPONSOR: Blaise Alexander Ford, Rte 45, Lewisburg.
Saturday, August 11, 2018
10:00 AM – 2:00 PM: Kids' Activities are FREE for Kids ages 2 to 10 years old.
3:00 PM – 4:00 PM: Old Fashioned Games (Cow Chip Throw, Potato Peel, Egg Throw)
FREE ADMISSION (up to 12:00 noon) for children (up to age 12) with the donation of a nonperishable food item.
RIDES: Rides Open at 1:00 PM — $5 wristband.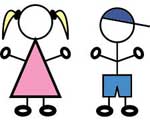 Below is the current list of Kids Day participants. All activities are 100% FREE!  Add your friends to the West End Fair Kids Day Group on Facebook so that they will receive updated information.
Types of Free Activities and Games
Bluebird Houses — Union County Conservation District
Firetruck — Union County West End Fire Company
Ambulance — Union County West End Ambulance Association
Face Painting
Anti-Smoking Activity — CVS
Kid's Activities — Union County 4-H, Penn State Extension
Short Wave Radio
Miss Union County West End Fair — Union County West End Fair
Hallmark Feeds, Inc.
Mifflinburg Buggy Museum
Civil War Reenactor — Brandon Folk
American Red Cross
Amy's Frosty Freeze
Pompeii Street Soap Company
Go Fish Game — Lincoln Chapel
Kid's Games — Elizabeth Anderson
Vehicle Display and Give Aways — Spangler Motors Inc
Farm Animal Petting Zoo
West End Library
Mifflinburg FFA
Pennsylvania Farm Bureau
Slifer House Museum
Pedal Powered Go-Karts
SUN Area Dairy Princess Promotion