Judging by Spectators – 1st and 2nd place and Best of Show Trophies. Multiple Entries Permitted.
Sunday, August 6, 2017 – 11:30 AM – 2:30 PM
CONTACT: Jeremiah Zimmerman | Phone: 570-217-7990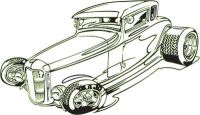 ENTRY FEE: $10 per Entry
REGISTRATION: 10:00 AM – 11:30 AM
All registration will be done at the show, no pre-registration.
*Tentative Car Show Classes
*Classes may be changed based on # of vehicle entries per category at the sole discretion of judges.